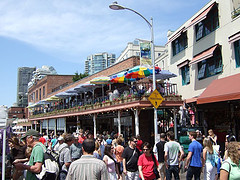 "If you wait until there is another case study in your industry, you will be too late." Seth Godin (Author of Permission Marketing)
If you want to remain in business, marketing is the key. It is not about having a great marketing plan in hand, you need to have a marketing strategy laid out. The reason being, once you have your potential customers, how do you plan to convert them into loyal clients? How do you plan to follow-up with the contact? If you have a marketing strategy in place, you should know how to play around it so that your business flourishes.

Top Marketing Tips
Before we delve into the matter you need to realize that times have changed and you have to do away with the traditional form of marketing. Your marketing efforts will diminish if you do not understand what works today and plan your marketing tactics and strategies as per the market situation.
Make your Own Email List – One of the cost effective marketing tools that a startup enterprise or an established small business can use is email marketing. Instead of buying an email list, build your own email database. To make your list, gather a list of your existing clients and ask them for their email address. From time to time, you can send newsletters or special discount coupons via email. Another way to gather email addresses is through your blogs or website. You can offer free e-books for those who join your subscriber list. Do not forget to ensure them that you will never share their information with anyone else.
Build an Influential Network – Networking is one of the requisites for successful marketing. It's not about the number of networks that you have but the numbers of influential people who can help you establish good contacts. Many prominent marketing experts do not agree with wasting time swapping business cards at networking events, instead, they want SMB owners to target influential people who can really help increase the commercial value of their business.
Give a Thought to Attraction Marketing than Pursue Marketing – Instead of pursuing new clients and those people who do not respond to your emails or telephone calls, you should revamp your website and blog. For instance when a good looking woman or a man enters a crowded room, the conversation ceases and all attention is directed to them. There are a few of us who would be ready to buy them a drink. These physically attractive people attract the attention and interest of the others. Similarly, if you want to increase your sales by attracting clients/customer, you need to make your overall package more attractive. For instance, if you have a blog, ensure that its content is informative. The website should be easy to navigate. If this is the scenario, your clients wouldn't mind spreading the word by telling their friends and family.
Charge as per your Promise – Do not compromise on the quality of your service/products. Ensure that your fees/charges match the quality of your product/services. Genuine customers will understand that quality never comes cheap.
Keep an Eye on your Competitors - You should always be aware of what your competitors are up to and plan a marketing strategy accordingly. You should know about the prices and special offers they distribute. This will help you make a better and more attractive offer to lure potential customers. Understanding what your competitors are offering will also help you measure the quality of your products/services.
Scan the Industry News – Subscribe to your industry related news articles online or e-magazines. Take time to read about the latest happenings. It's important to keep your blog up to date with upcoming news. This is a way to let people know where turn to when they want information. This will attract a good number of quality customers.
Feel free to share your little known ways to kickstart the marketing efforts with us.
Flickr image by ramelectronicsdotnet
Related posts: